About the Artist
A look at Larry Zgoda's stained glass work over the past 30 some years makes it clear why he's rarely bored. Known as an innovator, Zgoda has continually created fresh new ways to expand the use of glass as an architectural art form. He has created a body of work that is consistently inspired and constantly evolving.

Since 1974, the Larry Zgoda has produced unique, original compositions in the forms of windows, doors, screens, clerestories, skylights and walls of glass used in architectural environments. He has also assembled a repertoire of autonomous art objects using stained glass.
Refined workmanship, a focused use of color and a pioneering exploration of the refractive qualities of the materials coalesce with studied, sublime designs to distinguish Larry Zgoda's original compositions.
"I've always been interested in the essential crystalline qualities of glass. The material itself suggests certain geometries that lean toward the straight line. But sometimes I lean the other way, toward the curve."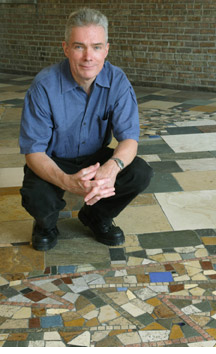 Zgoda's work is known for its geometric elegance, but he does not limit himself to a single design strategy or style. "I tend to explore an idea for a while and move on to another, always evolving a collection a design possibilities."
Although Zgoda describes stained glass as an essentially simple craft, "the endless combinations of light and refraction, translucency and transparency and texture and color present a wealth of design possibilities. The exploration of these various qualities and one's fluency with a design vocabulary determines the quality of the art".
"One of the things that makes stained glass interesting is its long historical tradition and the fact that I have been a part of a renaissance in the craft for the last thirty years plus. There is tremendous opportunity to take what we know from the past and move it into the future, inventing new ways of using glass and light to create beautiful architecture and beautiful environments. The continuum of past to present to future is especially fascinating."
Current Work
Larry Zgoda currently has works at the following places:

ILLINOIS ARTISAN SHOP
James Thompson Center
100 W Randolph St
Chicago IL 60601
312-814-5321
SOUTHERN ILLINOIS ARTISAN SHOP
14967 Gun Creek Tr
Whittington IL 62897-1000
618-629-2220
ILLINOIS STATE MUSEUM


THE MUSEUM STORE
Spring & Edwards St.
Springfield IL 62706
217-782-0979