Artifacts & Ideas for a Nature Inspired Architecture
By Jeff Huebner for Chicago Art Magazine on May 06, 2010
For the last several years, Chicago stained-glass artist Larry Zgoda has organized a series of exhibitions at various locations showcasing the work of a group of local friends and associates who share his vision of an arts-and-crafts-integrated architectural utopia. The impetus, he states, has been "a dissatisfaction with the status quo and the desire for beauty in the built environment, something we seem to have lost in many instances."
This year's exhibit is called "Artifacts & Ideas for a Nature Inspired Architecture: Connecting Our Built Environment to the Living World" and it's at the Chicago Mosaic School gallery till the end of May. The theme was built around the art of internationally known "organic architecture" and green building pioneer James Hubbell. This is the first time the Californian has shown work in Chicago, and he spent a few days here as well.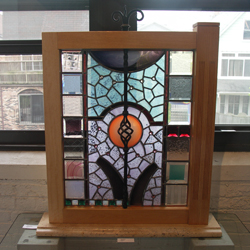 Zgoda has not just taken his cue from the likes of William Morris, founder of the Arts and Crafts movement in Great Britain in the 1860s, but also from Chicago's "forgotten Renaissance man" Edgar Miller (1899-1993), with whom he worked on many architectural glass projects during the 1980s and found "immensely inspiring." In fact, it was Miller's quirky, recycled glass, mosaic, and tile work on the 1920s Carl Street Studios complex in Old Town that inspired Zgoda's artistic path some 30 years ago, and that continues to guide his beliefs in the lost power of ornament.
"In Edgar Miller," he says, "I found both romantic architecture and Art Deco stained glass." Zgoda, 58, has since completed dozens of abstract stained and leaded glass commissions throughout the country for chapels, office towers, university buildings, and private residences as well as two Chicago branch libraries. You can view many of them at his website.
In addition, Zgoda fashions (largely with recycled materials) freestanding, stained glass sculptures, many of which are shown in the CMS exhibition. They share the gallery with seven other "Chicago Renaissance" members–"artists, architects, builders, dreamers, " who use craft-based, ostensibly decorative materials in original, surprising ways. (The group's manifesto lists 10 characteristics, including "Old Town, Left Bank style," "folk masonry," "zoomorphic ornament," and "nature, gothic, farm.") Says Zgoda: "We would like to see fine arts and crafts viewed on an equal footing."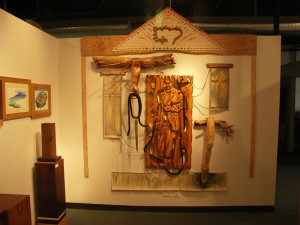 Artists include CMS founder and president Karen Ami's mosaic reliefs and sculptures; Sharon Bladholm's plant-based ceramics; John Hatlestad's sculpted wood and iron furniture; Christine Perri's salvaged and carved wood installations of fractured domestic life; and Bill Moran, a decorative muralist who also makes surrealistic, fancy-roaming paintings fit for the neo-Deco salon of the mind.
But the exhibit's centerpiece and special guest is James Hubbell, like Miller a "holistic artist" whose idiosyncratic, visionary work combines elements of art and craft, sculpture and architecture. "In the mid 90s, after Edgar passed away, I wanted to get to know this living master, so I wrote to him," says Zgoda. He responded, and a friendship developed, with ideas and works exchanged. "When I got the idea for [this show], the possibility of having some of his works here in Chicago was immediately important." His works here include watercolors, architectural concepts, and maquettes as well as photographs.
The 78-year-old Hubbell and his wife Anne traveled from their rural San Diego County fantasy-architecture complex to attend the April 9 opening and the following evening's screening of a 2002 PBS documentary on his lifework, Eye of the Beholder. The modest, soft-spoken artist let his buildings and installations do most of the talking. He and his firm Hubbell and Hubbell (with son Drew) use sculptured forms and natural materials to create an "architecture of jubilation"–residences, schools, ecological stations, outdoor chapels, parks, public art, and community built spaces, etc., primarily in California but also from Abu Dhabi to Findhorn (Scotland) to Vladivostok. He is building a series of parks in every country around the Pacific Rim, currently in South Korea.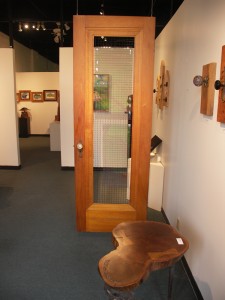 As Hubbell historian Otto Rigan has written, "Conventional art/historical and art/critical writing has fallen short of finding his essence." For starters, think Gaudi meets Eliel Saarinen meets Tolkien. How did this Cranbrook Academy of Art-trained sculptor end up making such definition-defying buildings? Growing up, he told me that he sought solace from school in nature, and soon realized, "I wanted to make music" (meaning, visually). Later, citing the "impractical yet romantic" designs of Gehry and Calatrava, Hubbell said, "I believe we're at the beginning of a Romantic revival, where we can celebrate having no control, and where magical things can happen."
In Eye of the Beholder, architect Drew Hubbell talked about the benefits of growing up in their family's magically constructed house, with no right angles. It made him feel as if "You could achieve anything you wanted to in life–there were no limits or corners in life."
While the elder Hubbell's cosmic-positive pronouncements ("Architecture must take measure of all that it is to be human in a world that is whole. It must take count of our galaxy and of a smile and somehow learn to interpret and express our new world in walls, doors and roofs") may smack of Southern California new-age speak to some, others may see it as a boundless faith in the possibilities of art, architecture, and nature to express the highest aspirations of the human spirit.
Saarinen designed the Cranbrook complex (outside Detroit) in the Arts and Crafts style amidst surrounding forests, influencing Hubbell and Zgoda. What the Finnish architect wrote in 1948 could as well apply to the "organic nature of design" sought by artists in this Chicago exhibit:
"The plant grows from its seed. The characteristics of its form lie concealed in the potential power of the seed. The soil gives it strength to grow. And outer influences decide its shape in the environment. Art is like the plant. The quality of art lies concealed in the potential power of the people. The aim of the age is the soil that gives it vitality. And outer influences decide its fitness in the environment."